Yes, how can you get the most mileage from the content you've worked so hard to create?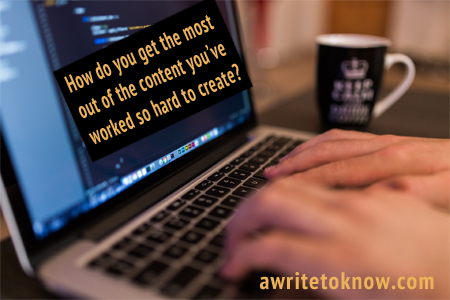 As you may have realized, at A Write To Know we are all about leverage. Getting the maximum play out of everything you do for your business—and your life.
Meet Pete, a successful small business marketing pro pulling down a six-figure income. A year ago, you wouldn't have thought he'd be where he is now. A year ago, Pete hadn't discovered the power of leverage.
Back then, Pete had been in the hospital for three months. And he was still there three months later, after nine spinal surgeries! Most of that time in ICU. All due to an auto accident from which he emerged with several crushed vertebrae.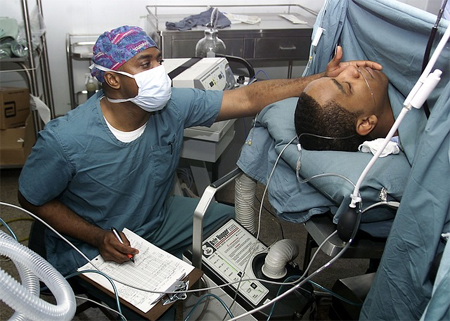 Prior to the accident, Pete had put a couple of years into growing his mildly successful coaching business. Over the six months he spent in a hospital bed, most of it working hard to get his body back, his business drifted steadily downhill.
He was feeling pretty discouraged. But Sherri"—his wife—insisted it would just take a turn of the wheel, that he'd get it spinning again faster than ever once he got back to it. He felt sure he'd never get things going again, He'd have to start all over, and now the competition was even stiffer.
But she wouldn't have any of that.
The day he came home from the hospital, he still had a lot of recovery ahead of him. Three times a week, the physical therapist would show up at his doorstep for the afternoon. Stretches, repetitive movement exercises to strengthen his muscles and help his body remember how to synchronize all the tiny movements that make up the gross physical movements most of us take for granted. Like standing. Walking. Bending over.
One thing this whole experience taught him was the meaning of family. We never know what's just around the corner, when life might deal us a hand that takes us away from those we love.
Maybe that accident was sort of a gift to him, because it taught him that, in a way he couldn't deny. He came out of the hospital committed to spending quality time on a much more regular basis with his wife and their two daughters.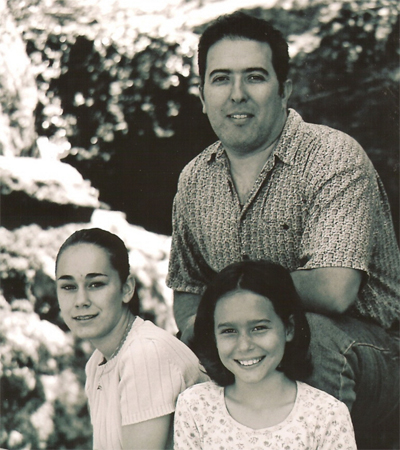 Family time, along with doctor visits and getting back to enjoying some social life, took precious time out of every week, leaving Pete far fewer hours than he used to put into his business. Back in the day, he'd worked 16-hour days all the time, never gave it a thought. 
No more! He promised himself not to put off enjoying the people he'd built his business to support. Lauren would be graduating next year, going on to college. He wasn't about to let that happen without being involved in her life on a daily basis while she was still living at home.
So … What did Pete do that brought his business back in spades after his accident? What made it possible for him to triple his income while redirecting a good deal of his time into getting well and enriching his family life?
The magic of leverage
First of all, Pete's physical recovery outdistanced his doctors' expectations. Sherri kept him laughing, and that probably had something to do with speeding up his recovery. She wouldn't let him think a negative thought.
She had some positive twist on every turn of events, turned everything around one way or another to help him see that he couldn't let this one negative event get him down.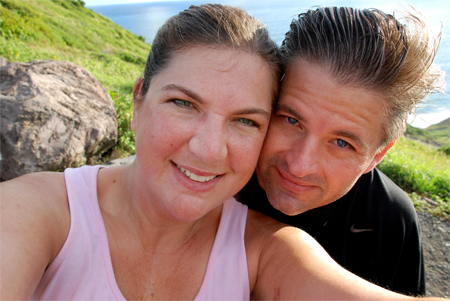 In other words, Pete had the emotional leverage of someone he loved rooting for him.
That's where it started. But it didn't stop there.
When he came home, he was excited to get back to work. First thing he did was contact his old clients. A lot of them had moved on with other coaches, but there were a few who hadn't made other coaching commitments. And they all wished him well, referred people to him.
Point of leverage #2: Clients and former clients, who knew the value of his work, threw their leverage behind him.
He hired a social media marketing company to get the ball rolling again.
Point of leverage #3: He got other people doing the work he wasn't great at.
They did a terrific job, way beyond just social media, re-purposing every bit of content so it appeared on Facebook, Google Plus and Twitter, and in articles all across the Web.
Point of leverage #4: Putting every piece of content out in numerous places, each serving a different audience.
On his own, Pete found four sites he could do guest blogging for. That got him in front of new audiences.
Point of leverage #5: Using the power of other people's blogs.
He already had an autoresponder set up, and he outsourced the writing of the email messages to professionals who did a bang-up job.
Point of Leverage #6: He used automation and outsourcers to make sure the people who opted in to his site got regular relevant and inspiring messages.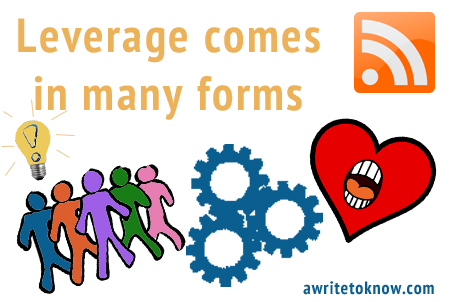 Recently, Pete got the bug in his ear to write a book. He'd never considered himself a writer, though of course he'd written a couple of hundred blog and social posts over the years.
So he hired a ghostwriter. In a couple of months he'll have a published book in his hands, and he's seen what that can do for your business if it's marketed right. And he has great marketing!
On the physical side, he's now walking without even a cane! That probably has a lot to do with the business. It's energized him.
Sherri had been right, it was just a turn of the wheel. If he were any happier he'd be doing cartwheels. And he might, when the book comes out."
Point of Leverage #7: I've read that Jay Levinson, author of Guerrilla Marketing, said he made ten million dollars from his book, only a tiny percentage of which came in book sales. Most of it was from spinoff products and repurposing of the content in ways that enriched him directly.
But a book can do more than that for you. To explore the many ways a book can leverage your success, see this article.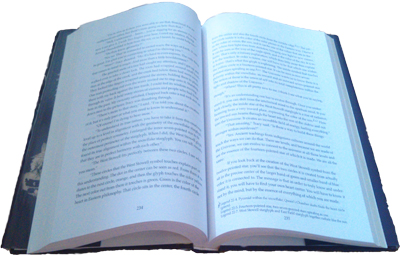 So, how can YOU put what Pete did into action and zoom YOUR business to the front line?
A quick review of those Points of Leverage to empower YOUR small business marketing:
Identify your most valuable source of emotional support, and seek them out when you're feeling the need. Do something good for them too, so you'll really feel great.

Call present and past clients or customers and ask for referrals.

Outsource things you need done that aren't in your strength area.

Repurpose every bit of content in at least four places, hitting at least four distinct audiences.

Offer to provide regular guest posts for blogs in your niche that you admire.

Remember, blog owners are always hungry for content.

Keep in constant touch by email with everyone who has opted in to your site

. Probably best to outsource the writing of the email campaigns.

Hire a ghostwriter to write a book you can use to leverage everything you do

. Unless you're a writer, of course, then you can write it yourself. But … it takes time. A lot of experts recommend that even a writer consider hiring a ghostwriter.
The thing to remember is, don't try to do it all yourself or you'll take years to achieve the success that can be yours in a few months. Instead, make out team your team for some or all of the work.
To explore just how we can serve you best in your unique circumstances, I invite you to schedule a complimentary 15-minute discovery session with me. Do it now. Say goodbye to trying to do it all yourself, and say hello to expanded reach!
To your leveraged success and life fulfillment,