What if you could use your pet stories to … 
√ have more fun
√ give memorable gifts
√ make more money 
without ever writing a single word? 
It's Writing Cats & Dogs …
This delightful ebook is your personal guide to writing and publishing a pet story book that will be your entry to the Pet Writing Cash Bonanza.
And … I'm going to show you how to get it … FREE!
With the knowledge contained in this little ebook, you will quickly understand why you MUST write YOUR pet and animal stories and get them into the hands of pet lovers all over the world. Consider:
√ There's a lot of money in the pet market. Animal lovers spend freely on clothing embossed with pet pictures, paw print window decals, stuffed animals, pet jewelry, and … PET BOOKS! 
√ A lot pet books have been best sellers. The 2015 list includes:
H is for Hawk (about raising a bird)
Beyond Words (what animals think and feel)
Inside of a Dog (the world from a dog's viewpoint)

How to Tell If Your Cat is Plotting to Kill You

What the Dog Knows (dogs sniffing out all kinds of strange things)

I Could Pee on This: And Other Poems by Cats

My Dog: The Paradox: A Lovable Discourse about Man's Best Friend
√ And that's just the tip of the tail! The list goes on and on.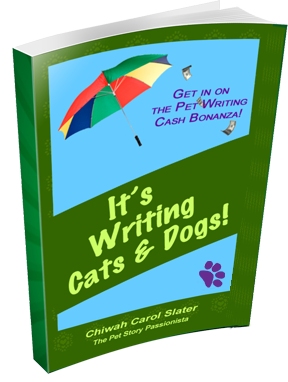 In this ebook, you'll read about other pet lovers – ordinary people, no different from yourself – who have brought their stories to life to touch the hearts of children and adults, and even raised thousands of dollars for deserving pet nonprofits.
Best of all, you'll learn how easy it is to make a difference for pet lovers who are training their pet, chuckling at each new antic, grieving the loss of a pet, or looking forward to welcoming a new pet into their lives.
Never thought of yourself as a writer? No problem! If you can talk, you can become a pet story author.
The first step is to read the ebook! It won't take you long, I promise. It's short. Only 25 fun and informative pages.)
The question is, What's stopping you?
√ Don't you just love telling your pet stories?
√ What if you become a best selling pet book author?
√ What if that turns out to be your own personal pot of gold?
Now it's true that you can buy this ebook on Amazon. But that would be crazy. I mean, why pay? When you can get it here with the click of a button … for FREE!