Month-of-May Press Release Nickel Sale
$300 VALUE!   SAVE UP TO $230
No matter what stage you're at in growing your business—just starting out, seeking to expand, or struggling to hold your market share—nothing serves better to keep you in the public eye than top-notch PR.
How many thousands of dollars have you sunk into advertising, with little or nothing to show for your investment? That's because advertising is recognized for what it is: You talking about You. PR, on the other hand, has the power of word of mouth. It's other people talking about you.
But to get that started, you have to get the word out to the people who do the talking. That's what a Press Release is all about.
How Does the Nickel Sale Work? 
The price goes up $5 a day.
Best of all, you can use these Press Releases anytime before August 1st, 2017. That gives you plenty of time to think up something newsworthy to focus on.
Limit: One Nickel Sale Press Release.
Payments processed by Paypal; However, you do not need a PayPal account to order by Credit or Debit Card.
What Can a Press Release Bring to You and Your Company?
Instant Exposure in local and/or national magazines and newspapers
Invitations to Be a Guest on TV and Radio Shows
Branding as Industry Expert
Highlighting of Your Community Leadership
Affordable Marketing to Huge Targeted Audiences
Increased Sales – Impress Potential Customers with the Benefits of Your Offering
More Traffic to Your Website – on which you can capitalize to build your contact list
Recognition from Reporters – who Will Be On the Lookout for You in the Future
Increased Exposure Online through Keyword Dominance
Cost-Effective Access to Deep-Pocket Investors
Best of all, it can do all that for you without breaking the bank!
Sample Press Release: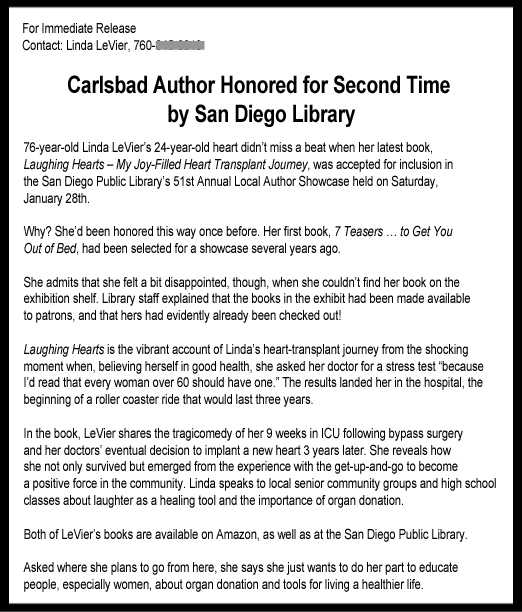 1 Press Release
$80 – May 3, 2017
(Tomorrow's price: $85)
DISCLAIMER and TERMS: In what follows, "we" refers to Chiwah Slater, AWriteToKnow.com, and our partners and affiliates: Your purchase constitutes a contractual agreement and all monies paid are nonrefundable. If you are dissatisfied with the contents of a Press Release, contact Chiwah at 760-586-5392 and we will do everything in our power to meet your reasonable expectations. Offer does not include submission of Press Release to your target publications and/or media; you are responsible for submission of your Press Releases. No guarantee that your Press Release(s) will be picked up by media and/or news agencies is intended or implied in connection with this offer.